Success Story: Taylor Road Middle School Band
Making it easy and fun!
Hearing about a band program EXCEEDING their fundraising goal with Terri Lynn is music to our ears.
We were so impressed with the success of the Taylor Road Middle School band in Johns Creek, Georgia — they were able to exceed their goal of $20,000 in their first year! — that we asked if they'd be willing to share some of their methods of success with other fundraising groups.

And because bands are all about working together, they said yes!
Their philosophy of involving the students, getting them excited about prizes, and creating community near and far all resulted in an online virtual fundraiser that everyone in the band program can be proud of. And with their funds from this Terri Lynn fundraiser, they'll now be able to hire instrument specialists to work with students 8-10 times throughout the year.
Pivoting to Raise Funds for Band Support
Last fall, Director of Bands Angela Reynolds was looking for a new way to fundraise. For years, the band program had sold citrus to pay for instructors and other needs throughout the school year. But when Covid happened, their usual supporters were reluctant to purchase from students selling in-person and there were shipping delays in the postal system that resulted in fruit sitting for weeks and getting overripe.
"So we started using a local guy selling nuts, and it got better," says Angela. "But he changed his program and we were still looking for something different."
Angela discovered Terri Lynn's fundraising programs and was drawn to the hands-off approach of the Webstore. Students would be able to send neighbors and family members a link to a personalized website to order products, and then their orders of premium nuts, snacks, and confections could be delivered straight to each supporter's door.
"The fact that you guys ship it means there's very little for the students to do. In the past, it was really labor intensive. We had to unload the truck, rent a forklift to unload the pallets, then it would rain or be really cold. . . "
Making it Fun for the Kids…
It's amazing how far a pizza party and a pie in the face will go! Angela and her team went to work figuring out how many orders each student would need to sell in order for them to reach their $20,000 fundraising goal.
Then, they asked the students what would motivate them to reach their goal. The band program has several classes in each grade, and created a friendly competition with prizes for the top-selling classes, including a pizza party and the chance to hit a band director with a pie in the face.

"Some students were really motivated from the prizes and competitions between the classes," says Angela.
There was also a drawing for students to enter based on the number of items they sold. Local businesses donated gift cards, coupons, and prizes kids love (like AirPods and LED lights). Students were also able to pay for all or part of their spring class trip with a portion of their sales.
"We give kids the option of paying for part of their trip if they sell a certain amount. Some kids sold over 100 items!"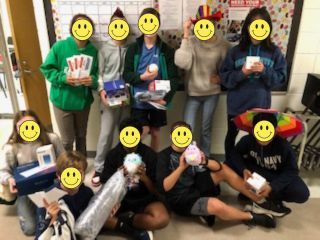 . . . And Making it Easy for Supporters

Using the Terri Lynn Webstore program, Taylor Road Middle School band students were able to fundraise entirely online. This meant no payments to collect or product to handle, and a one-stop-shop for supporters to purchase any item from a 30+ product online catalog. They also used the Terri Lynn Webstore Administrator's site tools to keep track of each student's fundraising tally.

"We sent everybody to the website, and people typed in the students' names when they checked out so we could keep track and give credit."

Angela also made a QR code that went straight to the Taylor Road Middle School band fundraiser's Webstore page, and printed it on pamphlets that every student could use as a sales tool.


Growing Their Supporter Community
"It's easy for someone to scroll past a post on Facebook. The students had to go and make the connection. Part of our success is that the kids are interacting with people," says Angela.
By giving each student a fundraising goal and the tools they needed, the band program was able to encourage sales from far and wide — even all the way on the west coast! And since orders are processed and shipped automatically on the Terri Lynn Webstore, it didn't require more work for the band program or students. Just outreach to loved ones!

"We have a multicultural community and kids with families all over the place. Someone's grandma in California can buy and support us. The kids all reached out to people they know."
With a product fundraiser through Terri Lynn, supporters can do more than give cash.
They can buy gifts for holidays, baking ingredients, and snacks for special occasions. This is part of the reason the Taylor Road Middle School band program hosts their annual fundraiser in October — after fall concerts and before the start of the holiday season.
"We wouldn't be able to do the things we do without this fundraiser."
"I think people should get something for their money. If they choose to donate extra, we can always set that up through our school, too."


Ready to Host Your Own Terri Lynn Fundraiser?
Whether you're new to fundraising, or looking for a new program to help you meet and exceed your goals like Taylor Road Middle School Band, our Terri Lynn team of fundraising experts are here to help with a free consultation. You can also browse our online catalog and free promotional materials to start planning for your next fundraiser today!
Latest Articles
Topics
Learn More about Our Free Fundraising Programs